It's September, which means festivals and cultural events are popping up across the City. Getting bored is not an option. Having a mediocre time is also not an option. Why? Because there are too many fun events to add to the calendar! Pull out that planner and add:
Night Fishing: An Immersive Art & Dining Experience
Wednesday, Sept. 12 | 7 p.m.
The Midway, 900 Marin St.
"Night Fishing" is an immersive art and dining experience with artist in residence Isis Hockenos. Isis has created a life-sized three dimensional painting where guests will dine inside while taking in her richly colorful and imaginative paintings. This truly amazing and unique experience can't be missed!
Friends of Palou Phelps' 3rd Annual Movie Night
Sunday, Sept. 16 | 6 p.m.
Palou and Phelps Mini Park, 1801 Palou Ave., Bayview
Enjoy a movie and some fresh air at the third annual movie night at Palou and Phelps Mini Park. This neighborhood park is known for its grassland setting, views and children's playground. Movie night is a great time to bring your family, friends, and dog to this San Francisco treasure.
Saturday, Sept. 22 | 11 a.m.-3 p.m.
32 Jennings St., Bayview
Cost: Free
Eco Center at Heron's Head Park and Bay.org will host this free day of arts, science, food and music in the Bayview-Hunters Point community. Community partners will run activity stations while local artists take part in a mural competition. The day will also feature live entertainment and food.
The Home Stretch: SF Giants vs. LA Dodgers
Sept. 28-30
AT&T Park | 24 Willie Mays Plaza
Cost: Tickets from $35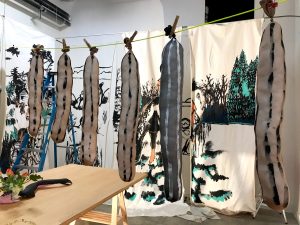 If there's one thing we love, it's a healthy sports rivalry. Head over to AT&T Park to watch the San Francisco Giants take on their arch-rival Los Angeles Dodgers. It's sure to be a nail-biter! Times vary. For information, go to www.mlb.com/giants.